Pool Solar Covers and pool blankets energy saving is here to stay. Solar pool covers or solar blankets absorb and traps the sun's energy, a renewable energy source. As the solar pool cover stores the energy absorbed, the resulting heat  is passed on to your swimming pool's water free of additional utility cost.
Is Solar Pool Covers And Pool Blankets Heat Derived From The Sun Significant?
Of course, yes. Pool Solar Covers and pool blankets energy savings is real, Data collected has shown that a solar cover can increase your pool's water temperature to a tune of up to 15 degrees without gas heater. This results in energy efficient saving costs of up to 70%.
This free energy is retained or stored by the solar pool cover  and subsequently, heat dissipated into your swimming pool keeps both above ground and inground pool's water warm and good for swimming even during cooler evenings throughout the seasonal swimming period and beyond.
Additional Accessories For Solar Blanket or Solar Cover!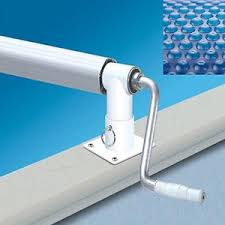 Above ground solar pool cover reels protector

Inground solar pool cover reels for protection.
Do not forget to protect your investment with solar cover reels. Cover reels  as shown are available for the solar covers and solar blankets for both the inground and above ground swimming pools.
There are several different solar cover reels that are popular among pool owners. Quite a few designs are available that serve different purposes and needs. An example is the Feherguard low profile cover reel which is good for inground swimming pool.
Also available are the whirlwind solar cover reel and the tidal wave solar cover reel both of which are suitable for above ground swimming pools.
Why Solar Pool Covers Are Good Investment
Many people hesitate to take solar pool cover because they are afraid of the cost. A regular cover or a protective cover can run you thousands of dollars, but a solar cover is not as expensive. You can buy a solar cover for less than sixty dollars, depending on the size of your pool. 
Also, unlike a protective and safety cover, it pays for itself in the savings it can bring you. Heating and pumping are huge expenses, and solar pool covers can help you cut down on them. They help with heat retention as they reduce evaporation. READ MORE……………